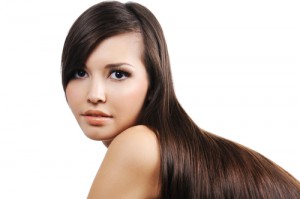 Hello there,
I just purchased some clip in hair extensions that are made by Hollywood Secret. I bought them on eBay after reading a lot about them. They haven't arrived yet, but I'm wondering if you have any info on them for me. It said it was 100% human hair and was Remy Indian hair. I don't know what that means but I read that Remy is good. Any advice?
Thanks!
Christina ….
Dear Christina,
Thanks for writing to us about your recent hair extensions purchase. The question about 100 % remy quality human hair is a good one, so I will write a post about it.
In theory, if a hiar extensions company says they have 100% human Remy hair then it must be 100% human. Soemtimes cheap hair extensions companies try to market their hair extensions as if it were 100% remy when it is in fact synthetic hair.
I have found with hair extensions you get what you pay for. If they are super cheap and ladies you know what I mean, they are synthetic. Once they get in the $100 and up area it is real 100 % remy quality human hair.
Just becuase the hair extensions are more expensive does not mean you need to have a salon apply them. I see you purchase clip in hair extensions. They are great and form what I could see about Hollywood secret they should be decent quality.
My personal favorite clip in hair extensions come from Simply Extensions. I have had one pair for almost two years and they still look brand new.
Please write back and tell us more about your clip in hair extensions so I can add it to my clip in hair extensions reviews.