All about myself and my love for hair extensions.
My name is Claudia Monasterio. I am from Santa Cruz Bolivia and moved to the US when I was just 18 to live in California with a girlfriend.  It was the time of my life, freedom, independence, a new country and very cute guys.
I was fortunate to have attended an excellent school when I was younger and already spoke good English.  It made the transition much easier I think.  I learned so much and who doesn't love California.
My family has always loved hair and beauty.  I was raised by my mother and grandmother with 3 other sisters, so you can imagine what it was like with a household of girls.  My mother had a beauty salon and I helped her when I was a kid, so I feel very comfortable in Salons and working with hair.
In Bolivia back then, we did not have hair extensions and it was when I came to the US I first learned about what the movie stars did to look like that.
Since then, I have lived in New Jersey and now Florida.  I was recently married to my handsome husband and we have an amazing daughter that is the joy in my life!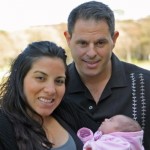 I really hope you enjoy this blog and learn a lot. It took me years and thousands of dollars in experimenting with the many styles and companies that offer hair extensions and can say with confidence, "do your research!".  Be careful believing the marketing.  There are some amazing hair extensions products out there that work better are more affordable and can be done by yourself or with a little help from a friend.
Feel free to contact me with your questions about hair extensions and I will do my best to answer them.
Also, if you have before after pictures of any hair extensions and please send me an email with them as I love those and what type of extension you used and what was your experience like.